SSLimage, your https logo host
You want to post your logo on a https page but you don't have any secure host?
We offer you a simple and quick solution of SSL hosting of your images and logos with https (https://www....) for only 3€/year/logo (2€~2$50) (view prices).

Our solution is 100% efficient with technologies such as paypal, 2CheckOut, Authorize.Net, NoChex...
Our prestation is instantaneous, you have nothing to install and your account is activated in the seconds that follow the acceptation of your payment.
You can publish your images immedialtely on your payment page with unlimited changes.
Why to use sslimage ?
When you navigate on a secured ssl page, all the elements that this page contains have to be hosted securely as well not to compromise the whole page.
If for example a logo or an image is not ssl hosted, your browser sends you an error notification telling you « this page contains secure and non-secure items »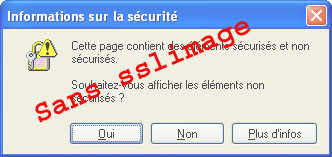 If you offer a paypal payment mode to your customers, you have the possibility to customize your payment page and to insert your logo there.
And you have to host this image with a ssl certification otherwise you'll get an error as referred previously.
Although, lots of customers immediately stop their transaction if they see that this one is not totally secured, afraid that their bank and personnal information would be intercepted.

Our logo hosting prestation offers you in a couple of clicks the ability to enforce your professionnal credibility and to reassure your potential customers.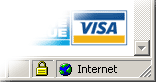 Indeed, owning a logo at SSLIMAGE allows you not only to conserve your customers thanks to a totally secured https payment, but also to customize your basket by inserting your logo that we host for you.
Reliable, quick, efficient and competitive
The ssl certificate we are using to crypt your images is a 128bit ssl certificate, offering an increased security.
Our offers are all based on a reliable and secure hosting system.
The prices we offer are one of the cheapest (the cheapest?) but that doesn't prevent us from guarantying a complete customer support.